1. Connect our USB 3Dx-dongle to your computer.
2. Install NVIDIA 3D vision controller driver.
The latest driver that supports this technology is version
425.31
3. Next, run the utility supplied with the USB 3Dx-dongle utility "nvdrv-fix.exe". It will fix the configuration of the NVIDIA driver for its successful operation. The NVIDIA driver was written with crooked hands and it contains many problems. Errors have never been fixed. Without correction operation, the driver will not be able to work adequately.
4. If you do not see red messages of fatal error warnings from utility "nvdrv-fix.exe", go along the path:
-> "NVIDIA Control Panel"
-> "Parameter Management 3D"
Activate the settings as in the screenshots below: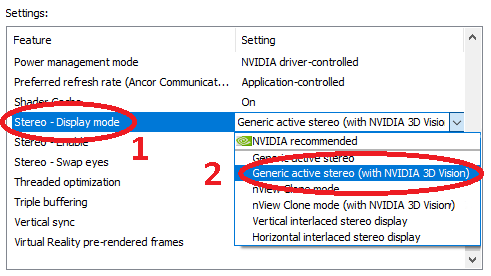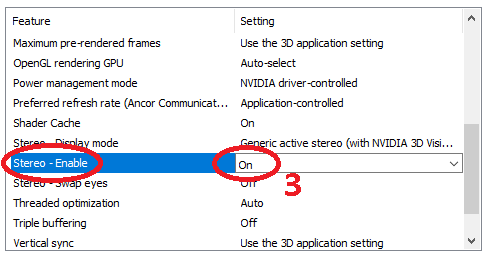 5. Now go along the path:
-> "NVIDIA Control Panel"
-> "Set stereoscopic mode 3D"
-> "Stereoscopic 3D effects test"
-> "Run test image test"
The display of stereo images should begin. If the glasses do not turn on automatically, then they are "sleeping". Activate by pressing any button on the bow.
Test the quality of the display in the "3D Vision Photo Viewer". The utility will be installed with the NVIDIA 3D vision controller driver. In the folder: "3D Vision preview pack 1", you can select demo stereo *.jps files for viewing. Open the help window by pressing F1 for more information.
Test image quality in the "sView - image Viewer".
Use the following settings:
-> View -> Stereo Output -> Stereo
-> Shutter glasses -> Select device -> Shutter glasses
-> Vertical Sync - On
-> Type of quadbuffer -> select the appropriate
-> Glasses Sync -> No Control
6. If all the tests were successful, you can proceed to configure the games. First of all, it is recommended to check the support of the selected game and the requirements for it in the NVIDIA panel. On the tab "View compatibility with games".
If the game is not in the list of officially supported, try turning on the stereo mode Ctrl + T and adjust the settings with keyboard shortcuts, set in the NVIDIA control panel:
"Set stereoscopic mode 3D"
"Assign shortcuts", Ctrl + F7 saves the settings.
For more information on adapting games, read the profile forums.
Have fun game!